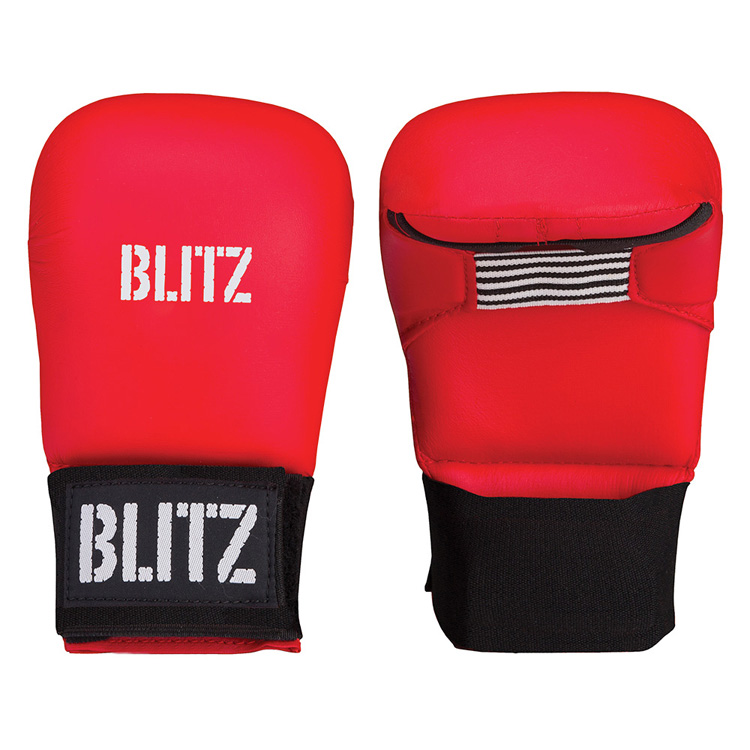 Red PU Elite Mitt
A World Karate Federation Tournament style glove. Now used in 90% of all Karate Championships around the world. Lightweight, durable and very comfortable to wear. Securely fastens at the wrist with a wrap around Velcro strap. Made from premium synthetic leather.
Essential for safe sparring.
Brand

Blitz

Color

Red

Material

Synthetic leather

Sizes
XX-Small (6.4cm - 7.0cm)
X-Small (7.2cm - 8.2cm)
Small (8.2cm - 8.5cm)
Medium (8.5cm - 9.1cm)
Large (9.1cm - 9.5cm)
X-Large (9.5cm - 9.8cm)
Junior (8.2cm - 8.5cm)
Senior (8.5cm - 9.8cm)

This sizing guide comes from Blitz. In sensei Matt's opinion they turn out on the small side and it's better to choose one size up. Feel free to speak to sensei Matt and try things on at the club before ordering.

To determine the correct size gloves, measure the distance across the lowest, but widest, part of your knuckles on the palm of your hand, as depicted in the diagram.